Savvy Neon Green
$88.00
Children's Blue Light Computer Glasses
The Savvy Green computer glasses provides a sophisticated but friendly look to your child's style while also protecting their eyes from the blue light emanated from their digital devices. The black frame is complimented well with a neon green accent to provide some personality. This frame is composed of a lightweight plastic with a spring hinge producing an easier, more enjoyable wear for your child.
The frame size:
Eye Size - 44mm
Bridge Size - 17mm
Temple Length - 120mm
Blue Light Filtering Lens Technology
Exigo Optical Eyewear lenses are infused with proprietary pigments and dyes to mimic the way your eye naturally protects itself against blue light, without distorting color.  Our lenses are made of a shatter-proof, poly-carbonate material providing UV light protection, anti-reflective coating, and a scratch resistant surface.
Package includes:
(1) Pair Exigo Optical Eyewear
(1) Protective Case
(1) Micro-Fiber Cleaning Cloth
---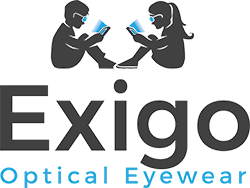 We know that parents strive to be proactive about their child's health and well-being, which is why we provide maximum protection lenses that filter out the harmful blue light given off from digital devices. Protect your child's vision, prevent harmful damage, and ensure they see a bright future.
How to Measure
If your child wears glasses or sunglasses, the three measurements you need are printed on the inside of the arm. All measurements should be in millimeters.
The numbers will read 55-16-140 meaning, lens width 55mm, bridge width 16mm, and temple length 140mm.
For accurate measurements:
Lens width - Measure from the inside, by the bridge, to the widest outer side.
Bridge width - Measure just under the spot where the glasses rest on the nose.
Temple length - Measure from the hinge to the tip of the arm.
Please Click Here to download our complimentary ruler and measuring information.