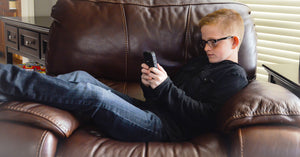 Sweet - Children's Blue Light Computer Glasses
Filtering The Highest Amount of Blue Light Without Distorting Color.
Exigo Optical Eyewear lenses are infused with proprietary pigments and dyes to mimic the way your eye naturally protects itself against blue light, without distorting color.  Our lenses are made of a shatter-proof, poly-carbonate material providing UV light protection, anti-reflective coating, and a scratch resistant surface.
Exigo Info
About Exigo Optical
We know that parents strive to be proactive about their child's health and well-being, which is why we provide maximum protection lenses that filter out the harmful blue light given off from digital devices. Protect your child's vision, prevent harmful damage, and ensure they see a bright future.
News & Updates
Sign up to get the latest on sales, new releases and more …